Our travel this day began at Plitvice Lakes National Park, and we found ourselves facing a choice: follow the smooth, modern toll motorway of Croatia or dive into the unknown through Bosnia-Herzegovina. With images of the '90s Bosnian Wars hovering in our minds, yet unfamiliar with what Bosnia might look like today, we chose the path filled with untapped experiences.
Navigating from Bihać to the Croatian Coast
Our journey saw us pass through Bihać via the M5, headed towards Sarajevo until we reached the intersection with the M14.2. From Petrovac, the M14.2 guided us across the Klekovača foothills and over the 1031-meter-high Oštrelj-Pass to Drvar in the Drvarsko polje. After traversing another pass at 985 meters, we found ourselves at the Croatian border crossing at Strmica. Once cleared, we navigated towards our coastal destination of Rogotin, situated near Ploče.
Crossing the border consumed quite some time, with over half an hour spent waiting. With our departure from the EU, we also had to forego cell phone roaming privileges, switching our phones to airplane mode to avoid potential charges. We were also leaving the Eurozone and had to exchange our euros for the local currency, the Convertible Mark (KM), pegged at nearly 2 KM to 1 Euro.
First Impressions: Bihać
Bihać welcomed us with its under-construction roads and visibly humble dwellings compared to those in Croatia. Our first interaction with the locals was at a gas station, where a friendly attendant helped us with directions.
A Glimpse into History: The Fethija Mosque
Our primary objective in Bihać was the Fethija Mosque, a stunning architectural blend of East meets West. Constructed in 1266, the Fethija Mosque is the oldest gothic building in Bosnia. Initially erected as a Catholic church dedicated to Saint Anthony of Padua, the structure underwent a dramatic transformation following the 1592 Ottoman conquest of Bihać. It is one of the oldest surviving places of worship in Bosnia and Herzegovina and one of the few examples of mosques in Europe that have evolved from Gothic churches.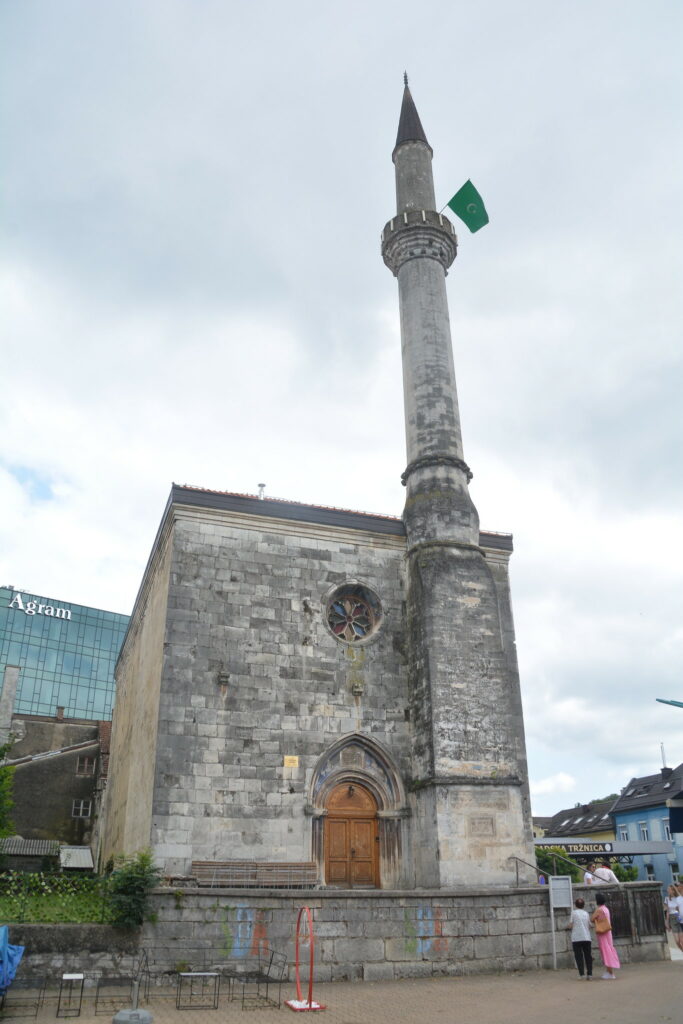 The mosque is a unique representation of the region's turbulent history. Despite several modifications, especially to the windows, the original gothic rose window remains intact. An inscription in Ottoman at the base of the newly constructed minaret narrates the building's fascinating history.
Unfortunately, we couldn't explore its interiors as the mosque was closed on the day of our visit. Still, even from the outside, the Fethija Mosque is a stark reminder of Bihać's rich and controversial cultural past.
Bihać's City Life
Exploring Bihać's pedestrian area, we found a Konzum store that seemed frozen in the socialist era from the outside. Bihać, with its mixture of Ottoman past, socialist heritage, and emerging European urban life, offered a unique perspective. Signs of the civil war were not visible to us. We indulged in local Bosnian cuisine at a nearby restaurant, with delicious ice cream from a local parlor to end our meal.
As we returned to the motorway, we were awestruck by the majesty of the Bosnian mountains. This dominant landscape is a testimony to Bosnia's raw natural beauty.
Roaming in Bosnia and Montenegro: Beware of Costs Without EU Privileges
In Montenegro and Bosnia, travelers are left without the cost-saving benefits of EU Roaming privileges, making it essential to be vigilant about their mobile service provider charges. Upon arrival in Bosnia and Montenegro,I was one is greeted with a text message from my cell phone service provider, outlining the daunting rates. Making calls costs a staggering 1.59 Euro per minute, while receiving calls racks up an additional 0.89 € per minute, and sending an SMS sets you back 0.59 Euro. As if that weren't enough, incoming calls from foreign network operators may incur extra charges. Also data usage carries an exorbitant price with 0.59 Euro for a mere 50 KB.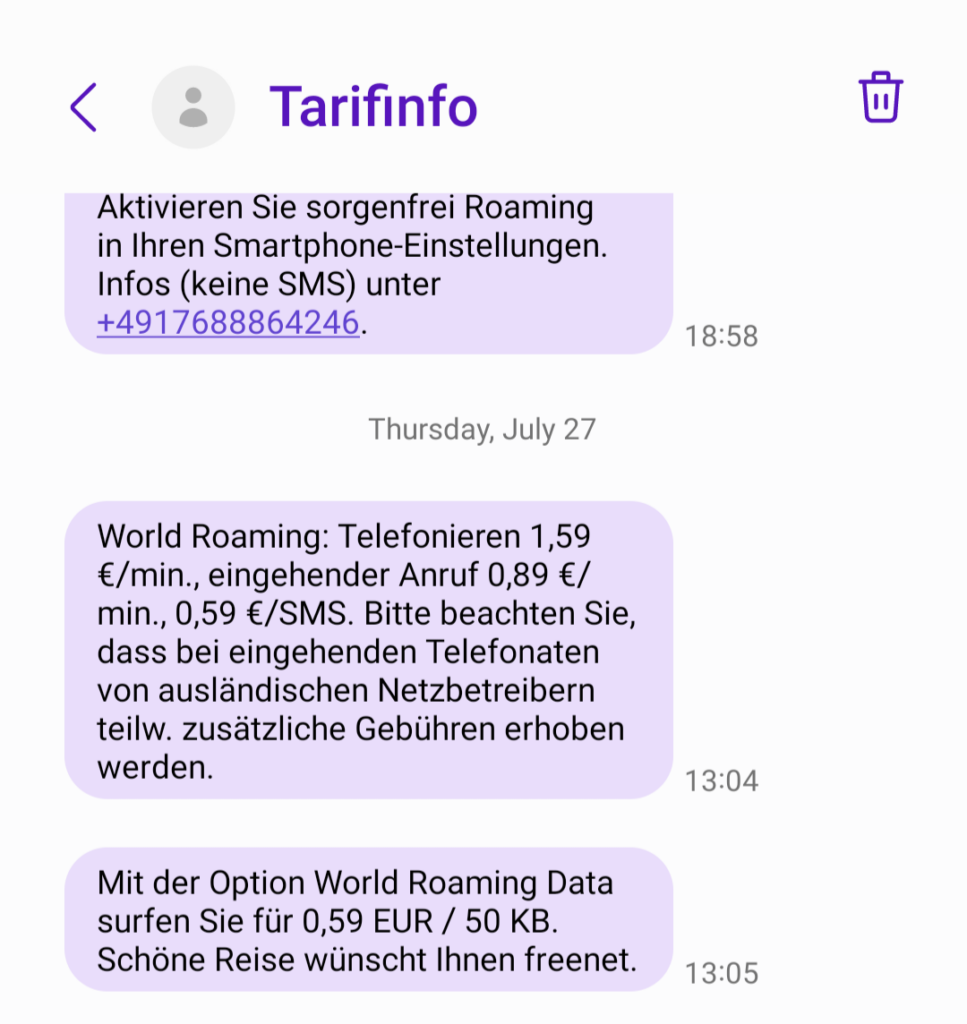 Sharing a high-quality photo of 2 MB would burn a gaping hole in your wallet, costing a jaw-dropping 23.6 Euros. Clearly, cell phone providers can be remarkably expensive outside the EU, making it crucial for travelers to inquire about their provider's rates before venturing forth. To avoid these steep costs, savvy travelers opt to switch their phones to airplane mode upon entry, relying on Wi-Fi hotspots in restaurants and their accommodations. A handy tip for data-conscious travelers: download a map of your travel destination while still within the EU to utilize Google maps in offline mode, allowing navigation without consuming expensive mobile data. So, before leaving the European Union, be well-informed and prepared to navigate through the labyrinth of roaming charges in Bosnia and Montenegro.
Photo Gallery