Dubrovnik promises an unforgettable experience that blends the charm of its past with the allure of its coastal beauty. As we embark on a captivating day trip, come along with us to explore the best that this enchanting Croatian city has to offer. From its rich historical heritage to moments of tranquility by the sparkling waters, Dubrovnik invites us to immerse ourselves in its captivating past and relish the serenity of its coastal landscapes.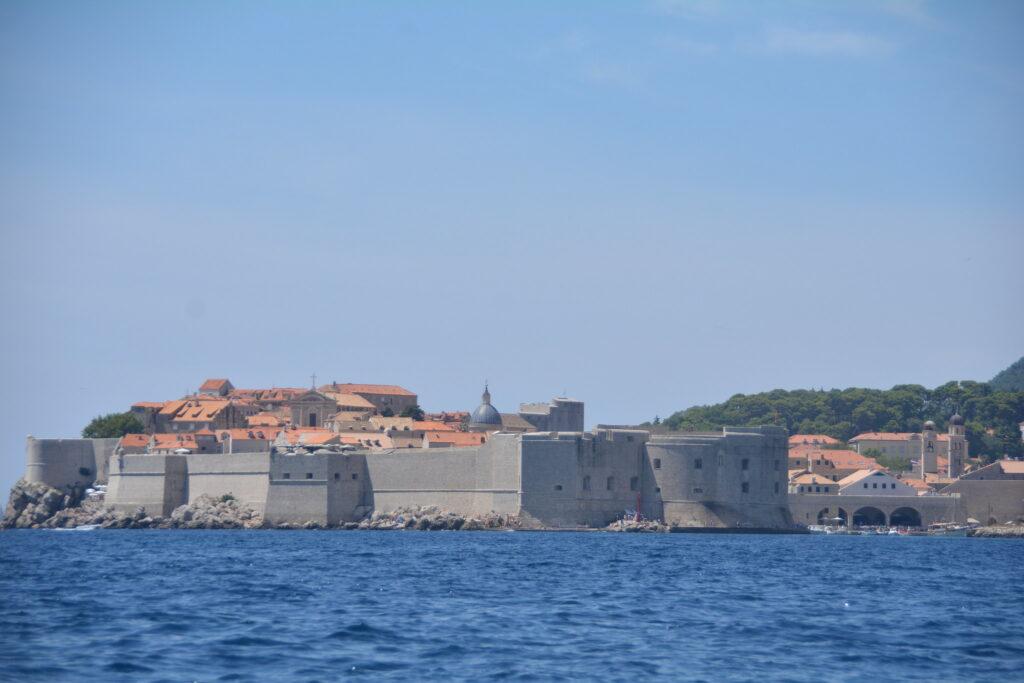 Navigating Traffic: The Pelješac Bridge
As we embarked on our day trip to Dubrovnik, our excitement was momentarily clouded by anxiety when we realized we had forgotten our passports. Nervous about border crossings, we cautiously followed the road to Dubrovnik. However, to our relief, a new solution awaited us – the Pelješac Bridge, a remarkable feat of engineering bypassing Bosnian territory.
The Pelješac Bridge, also known as Pelješki most in Croatian, is a stunning cable-stayed bridge located in Dubrovnik-Neretva County, Croatia. Designed to provide a fixed link from the southeastern Croatian semi-exclave to the rest of the country, this infrastructure marvel strategically avoids Bosnia and Herzegovina's short coastal strip at Neum, sparing travelers from any border crossings.
Spanning the sea channel between Komarna on the northern mainland and the Pelješac peninsula, this magnificent bridge passes entirely through Croatian territory. Its strategic positioning not only ensures seamless travel for commuters and tourists but also enhances the region's connectivity and economic development. The construction of the Pelješac Bridge commenced on 30 July 2018, it was opened for traffic, on 26 July 2022, the bridge and its access roads were opened for traffic. Thanks to the Pelješac Bridge, our journey to Dubrovnik became smoother and more enjoyable, allowing us to focus on the historical wonders and coastal beauty that awaited us in this remarkable city.
Parking Predicaments: Seeking Affordability
Dubrovnik's charm may be irresistible, but navigating parking can be a challenging affair. As we ventured into the city, we were taken aback by the steep parking fees, particularly in zone 1, which is adjacent to the Old City. Parking here cost a staggering 10 Euros per hour, making it an expensive option for travelers seeking to explore the historic wonders within.
For those planning to spend a full day immersed in Dubrovnik's treasures, a parking garage inside zone 1 offered a daily cap of 100 Euros. While convenient, it could quickly dent our travel budget.
However, we were determined to make the most of our visit without breaking the bank. Thankfully, we discovered a more budget-friendly option in zone 2. Here, we found a parking garage charging 7 Euros per hour.
Opt for Public Transport: Pile Gate, Your Gateway to Dubrovnik's Old City
Considering the exorbitant parking costs, I highly recommend opting for public transportation whenever possible.To access the Old City easily, aim for Pile Gate, a prominent entrance that grants direct access to the historic heart of Dubrovnik. The Pile bus stop is a popular choice among visitors as almost all local buses, except No. 7, make a stop here. Notably, the Dubrovnik Pass, which grants access to the city walls and museums, also includes a valuable perk – free public transportation
Walking the Ancient Walls: Immersed in History
To start our visit on the right foot, we embarked on a walking tour along Dubrovnik's historic city walls. The journey offered breathtaking views and invaluable historical insights. As it was a very hot day, we reminded ourselves to carry enough water. But in case you forget, some vendors and resraurants along the wall offer refreshments, including water, drinks, and ice cream. We could enter the walls from various points, but the walk progressed in one direction, providing an excellent orientation of the city's must-visit places. To access the city walls, you need a ticket for 35 Euros, but we discovered that buying the Dubrovnik Pass online in advance saved us the hassle of queuing. Notably, the pass includes public transportation and granted access to some museums, such as the Maritime Museum, where we delved into Dubrovnik's captivating history.
Dubrovnik: From Free Republic to Habsburg Crown Land
We couldn't help but immerse ourselves in Dubrovnik's intriguing history, once known as the Republic of Ragusa. The names Dubrovnik and Ragusa co-existed for centuries. Ragusa, recorded in various forms since at least the 10th century (in Latin, Dalmatian, Italian; in Venetian: Raguxa), remained the official name of the Republic of Ragusa until 1808, and of the city within the Kingdom of Dalmatia until 1918. Meanwhile, Dubrovnik, first recorded in the late 12th century, gained widespread use by the late 16th or early 17th century. The origin of "Dubrovnik" likely stems from the Proto-Slavic word "dǫbъ" meaning 'oak.'
This aristocratic maritime Republic of Ragusa thrived from 1358 until 1808, reaching its commercial peak in the 15th and 16th centuries. However, Napoleon's French Empire conquered it, leading to its formal annexation by the Napoleonic Kingdom of Italy in 1808. The former Republic's population comprised about 30,000 individuals, with 5,000 residing within the city walls. Its motto, "Non bene pro toto libertas venditur auro" – translating to "Liberty is not well sold for all the gold" – spoke volumes about its commitment to freedom. Also note: On 27 January 1416 the Dubrovnik Republic abolished slave trading and became one of the first in Europe to do so.
At the Congress of Vienna, Dubrovnik and its territories became part of the crown land of the Kingdom of Dalmatia, under the rule of the Habsburg monarchy, later known as Austria-Hungary from 1867 until 1918.
Linguistic Influences: A Bilingual Legacy
As of today, the Croatian spoken on the Dalmatian coast continues to exhibit Italian influence. For instance, I have heard that the local Croatian dialect still uses the Italian name "pomodoro" for a tomato. While I cannot personally verify this example, it shows the linguistic connection between the two languages. This linguistic link might lead some Croats from Dalmatia to attribute Romance vocabulary to Italians, particularly Venetians. However, a more concrete explanation exists. The historical coexistence with speakers of Dalmatian, a peculiar and now-extinct Romance language, has left a lasting impact. Consequently, many words that might appear Italian in origin are, in fact, inherited from this unique linguistic heritage. This linguistic amalgamation reflects the diverse historical interactions and cultural exchanges that have contributed to the distinct linguistic identity of the Dalmatian coast.
Don't Forget Your Swimwear: Enjoying the Refreshing Waters
As we explored the stunning city of Dubrovnik, we were greeted by the scorching heat, making us realize the importance of bringing along our swimming suits. However, much to our dismay, we had forgotten to pack them for our day trip. Determined not to miss out on the chance to cool off in the inviting waters, we eagerly anticipated our return to our vacation home.
After a fulfilling day of immersing ourselves in Dubrovnik's history and beauty, we finally made it back to our accommodation. Without wasting any time, we quickly grabbed our swimming suits and headed straight for a swim in the sea. The allure of the Adriatic waters was too enticing to resist, and we were eager to take a refreshing dip.
Exploring Dubrovnik's Coastal Charms
The next day, we found ourselves in Dubrovnik once again, this time on our way to our next destination: Herceg Novi in Montenegro. With our kids accompanying us, we were determined to make the most of our stop in this captivating city. Opting for a boat tour around the Old City seemed like the perfect way to explore the scenic coastal beauty and historical landmarks from a unique perspective.
The boat tour offered a delightful one-hour excursion, priced at 15 Euros per person. As budget-conscious travelers, we inquired about any possible student discounts, hoping to make the experience more affordable. The tour operator kindly offered that we would pay for two adult tickets and, in return, our three student age kids could join the tour.
With excitement in the air, we set sail on the sparkling waters, embracing the beauty of Dubrovnik's coastal vistas and iconic landmarks. Gliding along the ancient city walls, we marveled at the breathtaking views of the Adriatic Sea and the mesmerizing architecture that defined Dubrovnik's rich history. The kids were enthralled, and we cherished this precious family moment together.
The boat tour around the Old City became an unforgettable highlight of our day, before heading to Herceg Novi to Montenegro. With hearts full of appreciation for Dubrovnik's beauty and warmth, we bid farewell to Croatia.
Photo Gallery