Close to Metković, we crossed the border that intriguingly bisects streets and gardens. You can also experience this surreal crossing through Google Street View at this link. A street within Yugoslavia has now morphed into an exterior EU border.
En route to Mostar, we crossed the the Neretva River on the Tresaně Bridge and we glimpsed the fortified town of Počitelj, pausing our journey to capture its essence through photographs.
Along the road, mosques and churches stood in testament to the region's rich cultural tapestry. A noteworthy observation in Bosnia – or at least the part we journeyed through – is the bilingualism of the road signs. They are displayed in both Latin and Cyrillic script, although the Latin script seems to dominate in other contexts.
Eventually, we made it to Mostar. Guided by signs pointing to the Old Bridge, we parked our car in a garage for a full day at the cost of ten Euros – a pleasing contrast to the steep prices of Dubrovnik.
Mostar: A Resilient City Brimming with Life and History
We make our way to the Old Bridge, a symbol of resilience, beautifully reconstructed. Traces of past conflicts are evident on our route from the parking to the bridge; subtle reminders of the war that besieged this place in the 90s. However, the city now hums with vitality, and the specter of the past is seemingly banished by the throng of tourists that gravitate around the bridge.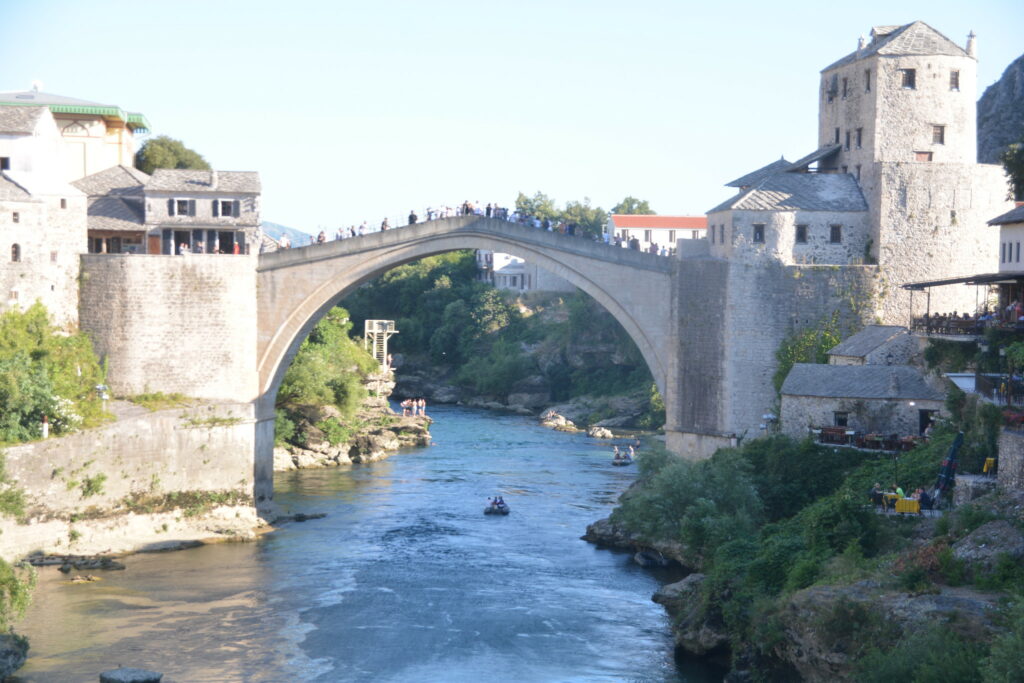 Daredevils, much like the famed Acapulco cliff divers, plunge into the river from the bridge, offering quite a spectacle. Meanwhile, tourists take it a bit easier, enjoying rafting trips that glide underneath the iconic arch.
We find ourselves a riverside restaurant, its terrace offering a splendid view of the bridge. We take our time, savoring the day over a meal. It's worth noting, euros are accepted, but keep in mind – establishments like ours are cash-only.
A leisurely stroll through Mostar completes our day, the vibrant atmosphere making the experience all the more enjoyable.
Photo Gallery